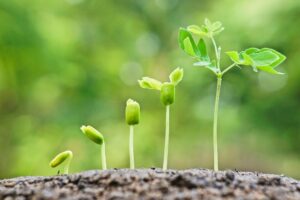 Alberta is not known for having an extensive growing season… which can make it difficult to grow some vegetables, herbs, flowers, or other garden plants from seed to maturity! With only 3-5 months of decent weather to grow in (depending on the year), most gardeners 'round here need to get creative. A quick and easy way to get around the short growing season is to purchase bedding plants and vegetables that have already had a good start from your local garden center (Hey! That's us!) in the spring. But if you want to enjoy the reward of growing your garden from tiny seeds to a full-grown, planty-paradise, then your best bet is to start some of your plants early and indoors.
This quick-start seed planting guide will walk you through 6 easy steps to get your seeds growing happily. You can even reference our Seed Starting Date charts below, to help you figure out exactly when to plant each variety you're planning for your garden.
Annual Seed Starting Dates | Perennial Seed Starting Dates | Herb Seed Starting Dates | Vegetable Seed Starting Dates
Let's Get Started
Like any good project, you'll want to start by gathering your materials. You will want to have your materials ready on a table or another suitable space with a fair amount of room to work. You will need:
Seeds
Growing tray
Humidity Dome (clear plastic lid for your tray)
Growing Medium: seed starting soil or peat pellets (if using soil, consider using tray inserts to separate seedlings)
Plant labels and a marker
Optional: Grow light (if you're going to grow your seedlings where there isn't much sun)
Optional: Seedling heat mat (if you're going to grow your seedlings where there isn't much warmth – like a basement)
You want to prepare the area you are going to use (the kitchen table works great). Don't forget to cover the area with something to catch any rogue dirt – old newspaper is perfect. You can fold up the soil in the paper and dispose of it easily.
Prep your planting medium. If using peat pellets, soak them in water. Hot tap water helps expand them quicker and to their full height. Start with a moderate amount of water and continue to add a small amount as needed until pellets are fully expanded. If using soil simply fill your grow tray or inserts with soil, and leave about a 1/4 – 1/2″ of space at the top (this helps to keep water from spilling over the sides). If your soil is dry or hard, try adding a small amount of water and working it with your hands – you want it to be a nice crumbly consistency so that the soil will "stick together" without it being soggy.
Create seed wells. Once the pellets are fully expanded, or your soil is prepared, use a pencil to poke a hole in the top of the soil. Don't go down too far, as you don't want the seeds to be too deep. In most cases, you should plant them about 1″ deep, but you can reference the back of your seed packets for specific directions per plant. You may want to create all of your seed wells before planting.
Add 1-2 seeds per well. Drop one or two seeds in each well, and press down the soil around the seeds. You may need to squeeze the sides of the pellet to push the soil together or even sprinkle a tiny amount of soil on top. Repeat for all your pellets or cells.
Place the lid on top and place somewhere that isn't too cold. Most seeds on average will take 5-14 days to germinate, with some taking up to a year (check the back of your seed packet for more info). The windowsill generally gets too cold at night and will affect germination, but any other "living space" that's generally warm in your home should work. The soil will need to be warm enough for germination (usually 8-10 degrees), so if you're putting your trays in a cooler area, consider using a seedling heat mat beneath your tray. Direct light isn't necessary at this stage.
Provide light once they sprout! Once the seeds have sprouted you need to remove the lid and provide light right away. Read the directions on the seed pack for specific lighting conditions. Often, seedlings will "stretch" for light if they don't get enough sunshine (they will become long and leggy). If you don't have a nice, sunny window, consider using grow lights to help supplement for sunlight. You'll want to make sure the lights are placed only about 6-8 inches above the seedlings, so that the light intensity is high enough to encourage full growth. Seedlings require 12-16 hours of sun per day, so use a timer to set your lights to 16 hours on, 8 hours off.
Transplant them when they produce their second or third set of leaves. Your seedlings are ready to be transplanted into larger containers once they have produced their 2nd or 3rd set of true leaves (usually 2-4 weeks). True leaves are all the leaves formed after the initial, very first, set of leaves as a seedling. You can go ahead and transplant them straight outside if the weather permits, or into larger containers if you're still waiting on the sunshine.
Starting your seeds indoors this year?
Check out our seed selection & growers supplies!