About Peony Plants
Peonies are iconic garden plants that have been in cultivation since the time of Confucius. There are approximately 33 known species of this favored garden staple! Peonies were originally cultivated for medicinal purposes and for flavouring foods like tea or salads but modern gardeners are growing peonies for their outrageously stunning and classic blooms. In terms of gardening, there are few plants that rival the importance and stature of the peony in a floral garden space except maybe the rose.
Types of Peonies
Peonies are perennial plants that come back happily year after year, regrowing their foliage from the ground up and are generally of two types – Herbacious Shrubs or Woody stemmed Shrubs. The common garden variety that we grow is typically a cultivar of Paeonia lactiflora, a herbacious variety and so this is the type we will focus on in this Growing Peonies Care Guide.
Where to Plant Peonies
The peony has adapted to be hardy and tough after thousands of years in gardens. Though they are adaptable to changes in light over the season, it's best to plant your peony in a full sun location where it can receive at minimum six hours of direct sun per day. It is ideal to provide shelter from wind as their large and heavy blooms can blow over in a gale.
Using a peony ring can help stabilize them. Avoid planting peonies too close to trees or heavy feeders who might compete for light, root space, or food. As iconic as the peony is, it is a fantastic species to stand alone as a feature plant or to incorporate as the center focal in a bed underplanted with annuals.
Plant peonies in full sun – 6-8 hours of sunlight is ideal
Plant individuals at least 3 – 4 feet apart from each other
Peonies enjoy rich, well draining soil that retains some moisture
Peonies grow approximately 30″ tall and 30″ wide
Choose their spot well, they don't like being moved but most will bounce back in time.
When to Plant Peonies
Plant peonies in the spring or fall.
In fall, plant at least six to eight weeks prior to the first frost. When planting greenhouse grown peonies in spring, it's best to wait until after the last frost of the season and harden small plants off to cooler temperatures if they've been pampered indoors.
If dividing or moving a mature plant, doing so in the fall is ideal.
How to Plant Peonies
Choose your ideal spot and dig the hole twice as wide as the pot and slightly deeper. Amend the soil in the area to ensure good drainage and nutrition. A supplement such as bone meal or Myke – ideally both, is recommended. If the planting area contains a lot of sand or clay, work in some fresh compost or garden box soil to improve it.
Ensure the plant is not planted deeper than it was in it's pot.
Water thoroughly.
How to Care for Growing Peonies
Aside from their blooms, the beauty of growing peonies is that they are relatively easy care and low maintenance. It's certainly another reason they've become such a staple plant in many gardens. Peonies can live for decades if properly maintained!
If you've amended the soil well prior to planting there is little required to ensure your peony will thrive. Until they are well established, water when dry – increase water in times of extreme heat.
Once the plant has established it will be rather drought tolerant but still, water it during the heat of the summer or if it has been a while since a good drenching rain.
Fertilize established plants after their flush of blooms has faded and you have removed dead blossoms. Use fresh compost or blood meal worked into the top layer of soil. No need to fertilize heavily every year – every second year should do.
Peonies do not require mulching. If mulching a bed for aesthetic reasons, do so lightly at the base of your peony and avoid soil or mulch pressed up against the stems.
How to Cut Peonies for Bouquets
Peony flowers make beautiful bouquets and cut flower arrangements! It's best to cut the blooms while the buds are still a bit tight so they will stay structurally sound longer. Cut long stems and remove foliage from the part of the stem that will be placed in water.
Pests
Peony are relatively pest resistant and most deer, rabbits, and other foliage eaters will avoid them. Fungal issues or blights are more likely. Ensuring the plants have adequate air-flow around them will go a long way towards prevention of these diseases.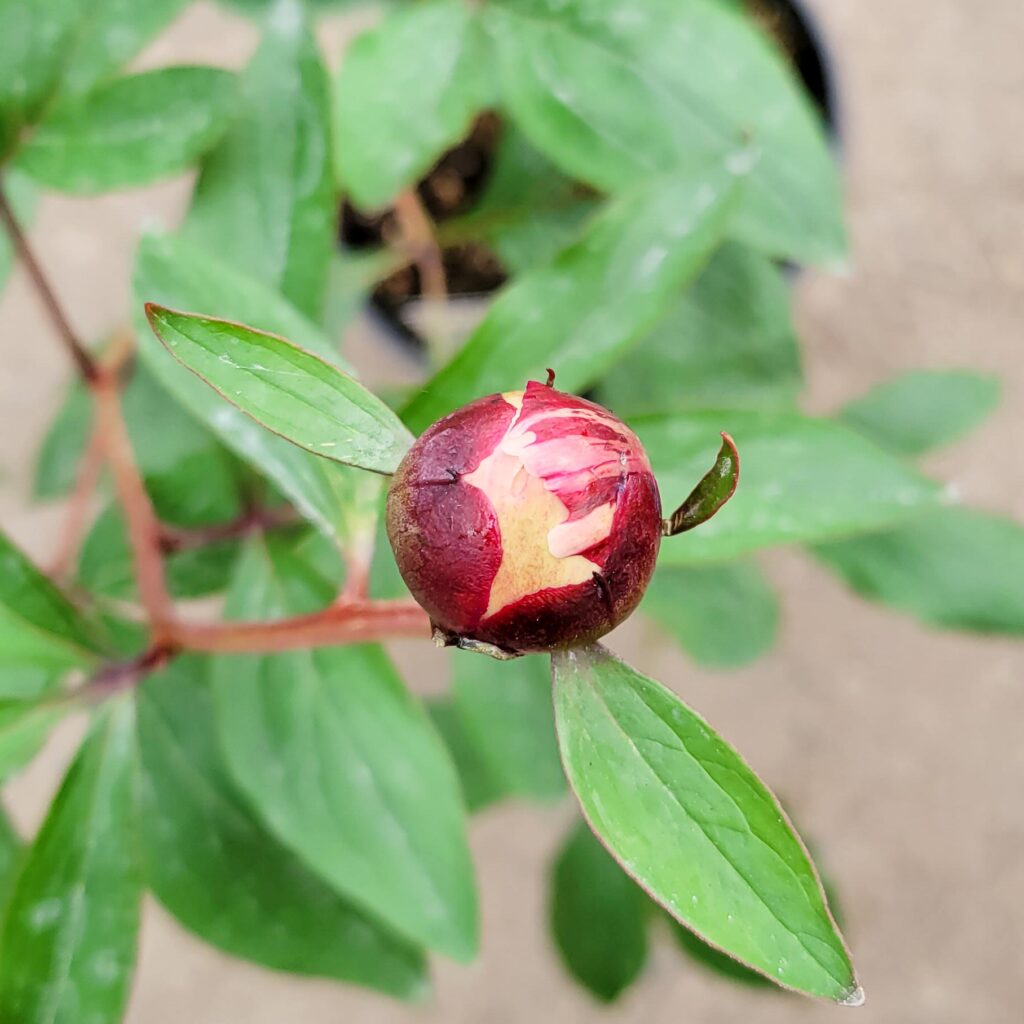 What to do about Ants on Peony Buds
You will likely see ants gathering on the tight bud formations before they bloom and this is common and nothing to worry about. The ants will not harm the plant or the flowers, rather they are there to feed on the sweet nectar the blooms produce. Peony plants intentionally attract ants with this nectar as the ants will protect the plant from more devious pests such as aphids. Leave the ants to have their feast and they'll leave once the blooms have opened and the nectar is gone.
How to Prune a Peony Plant
Peonies do not require pruning and aside from harvesting flowers it really isn't needed. This is because the plants will die back each year as winter puts them to sleep. Clean up dead foliage and branches in the spring as you see the next flush of growth about to push through.
How to care for your Peony in the Winter
Fantastic news – all you have to do is nothing! Your plant is sleeping and it doesn't need mulch or any specific care. Just let it be and be sure to not disturb the ground before it pops through again in spring.
FAQ – Screen Shot it for later!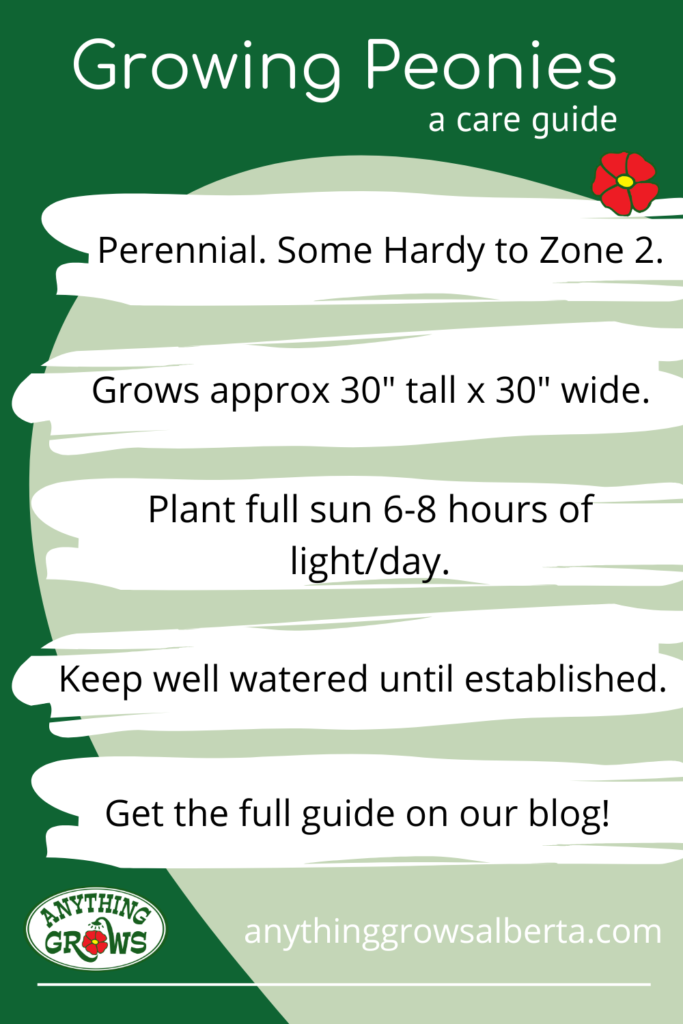 Growing Peonies – Conclusion
Peonies are easy care, traditional perennial plants with an incredible show of flowers in spring through early summer. Every garden needs at least one and they are best placed as center pieces or feature plants to give them space to thrive. Amend the soil prior to planting your new peony so it has nutrients and good drainage. Fertilize every second year with some fresh organic compost and enjoy your plant year after year after year!
Rare Peonies
We are pleased to stock Veitch's Peony – PAEONIA ANOMALA SUBSP. VEITCHII here at Anything Grows! Veitch's Peony is from the mountainous regions of Tibet / China and as such, it is an extremely hardy variety which grows well for us in Alberta zone 3-4. Our supplier has cultivated Veitch's Peony in the foothills for over 25 years and that's a testament to how well they do here!

Unlike standard peonies, the Veitch's Peony can be planted in shadier locations such as an East or North facing bed. They grow attractive foliage and seed pods which adds a textural element to your gardens.
Shop Peonies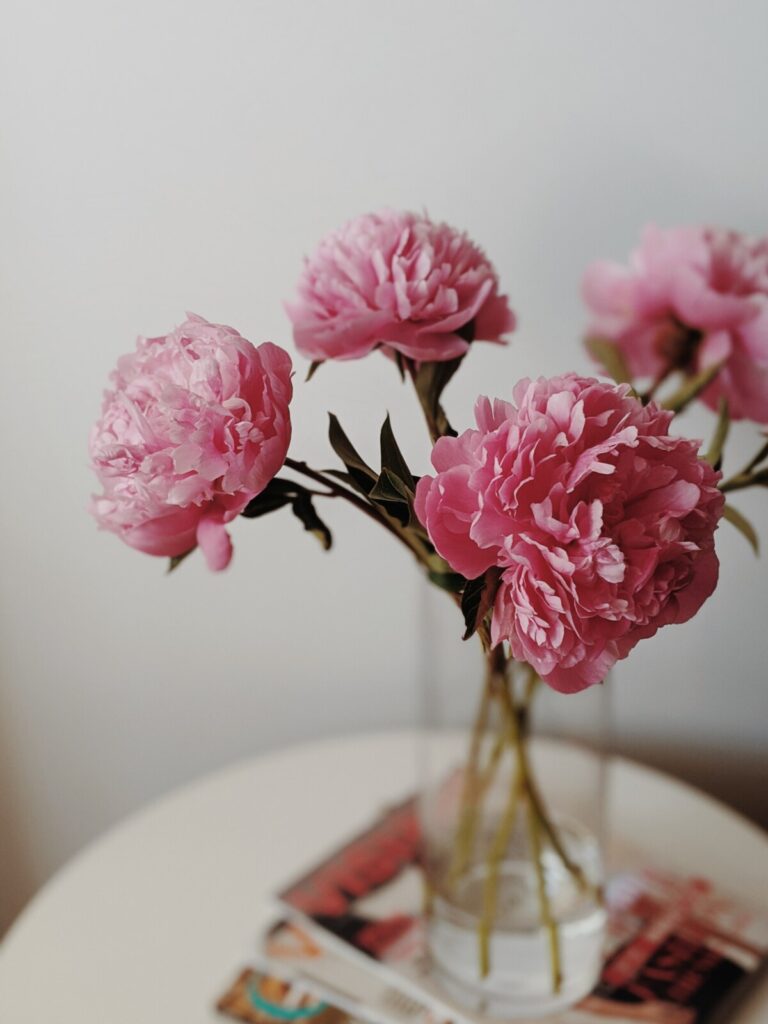 Resources: Wikipedia