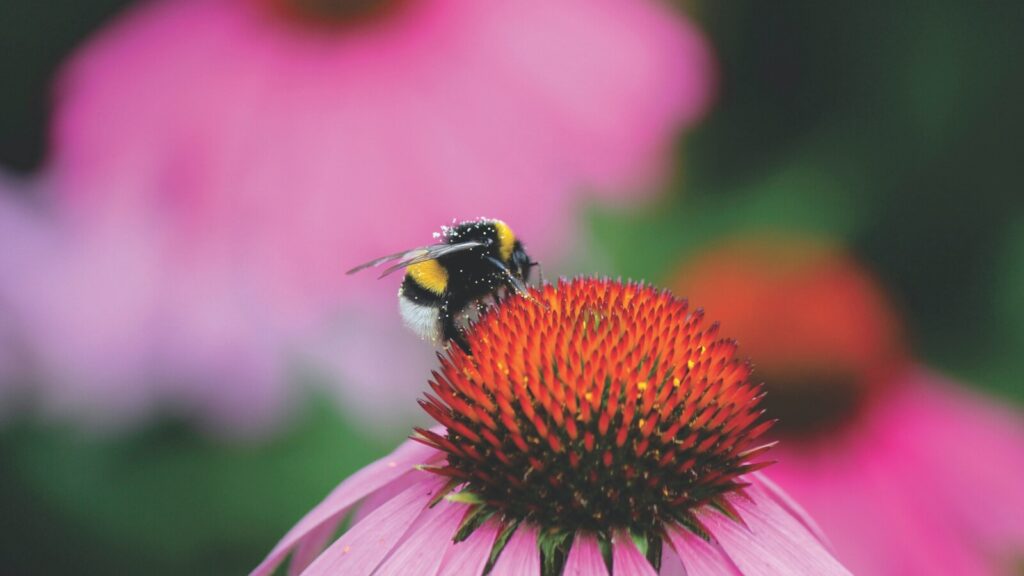 Looking for Plants to Grow for Bees? Bringing bees, butterflies and other pollinators to our garden strengthens our local eco-systems and is just a down right enjoyable experience later in the season! Watching bees hum around our garden is like receiving a compliment on our work from Mother Nature herself.
If you'd like to grow for the pollinators this year, here are 10 plants you can start by seed now, to transplant outside after the risk of frost has passed – usually the end of May / early June for us here in Southern Alberta.
1) Calendula
Calendula is an edible herb that resembles a daisy. It provides brilliant yellow colour and a quintessential flower shape to borders, containers and cut flower gardens. Grow it for garnish on the plate but be sure to let some linger for the bees as they'll love it all summer long!
2) Bee Balm
Bee Balm or Mondarda, is sometimes known as bergamot and is often used in tea as it can provide a light minty herbaceous flavour. Bee balm comes in many cultivars and colours which means you'll find one that's perfect for your garden. They love sunny spots but will tolerate a bit of shade as well.
3) Cone Flower
If you wish to have a large bouquet of cut coneflower, be sure to plant them in poor soil lest they focus on growing foliage over blooms. These plants love full sun and give a nice bit of height to your borders. They have strong, straight stems that will withstand high winds without snapping and will attract bees, butterflies and birds!
4) Delphinium
True Delphinium are blue but new varieties come in many colours. These can grow up to 6 feet tall which is quite impressive when covered in gorgeous blooms. Stake them up in high winds. Prevent Delphinium from drying out by adding a layer of mulch around the base of the stems. They also require regular deadheading and fertilizing which may seem like a lot of work but these plants will bring joy and many bees to your garden scape.
5) Columbine
Columbine are a hardy perennial and will come back year over year in our harsh climate. They can survive with little interference and offer some of the most beautiful growth habits out there. Provide a bit of shade during the heat of the summer and they'll bring not only bees, but hummingbirds too! Be aware that they may not bloom until the second year after planting.
6) Foxglove
Foxglove are perennial to zone 4 so they may not come back in all locations but find somewhere with a bit of protection from harsh elements and they may do well for you, reseeding themselves year after year. They can grow almost anywhere from full sun to full shade. The hotter the summer, the more shade and moisture they appreciate.
7) Alyssum
A staple for most gardeners, Alyssum is perfect for flower beds and rock gardens as a filler. It can crawl along and fill in blank spaces making any flower bed feel lush and full. It also provides a sweet scent that brings out the pollinators. Available in whites, purples, and pinks.
8) Butterfly flower
Butterfly flower, or Milkweed is essential for the habitat of several butterfly species, most notably the stately Monarch butterfly. Two species are native to Alberta – Asclepias speciosa and Asclepias viridiflora avoid planting tropical Milkweed – read more about Milkweed.
9) Salvia
A relative of the common Sage plant, Salvia grows tall with a spike of purple/blue flowers on top and is an incredible plants to grow for bees. This is another plant that can withstand harsh winds and you will love all the bees it brings to your garden. Plant in your veggie beds and they'll provide a shock of colour all season while being deer and rabbit resistant. See more deer resistant plants.
10) Chamomile
Grow this herbaceous plant anywhere you'd like to see adorable button daisies. While it is incredible to grow and dry for tea, Chamomile can also be used in homebrew beer! Dried flowers look lovely in displays and the pollinators will adore them too.
Of course, there are more than 10 plants that will bring pollinators to your garden, but narrowing it down a little sounded like a good idea or we'd be going on for a while
Share in the comments if you plan to plant for the bees and let us know what works best for you!