We sell ONLY Hardy Trees and Shrubs
All trees and shrubs come with a 1 year warranty or purchase Myke growth supplement and get a 5 year warranty. Learn more about our
tree and shrub guarantee
here.
What is a hardy tree or shrub?
A plant that is "zoned" for a specific climate area.
Most locations around the Cochrane and calgary area are zone 2 or zone 3.
The zone is determined by your average winter temperatures.
Many yards have a "micro-climate" where you may be able to grow zone 4 or even zone 5 plants. This often requires a little experimentation, but that is the best part about gardening!
Explore Canada's hardiness zones here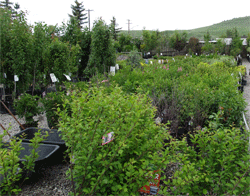 Trees and Shrubs are perennial plants. They differ from other "perennials" in that they are woody plants. Trees generally grow taller and have a canopy of foliage with a trunk whereas shrubs have branches down to ground level.Trees and shrubs generally fall into two categories,
coniferous
(cone bearing or evergreen) and
deciduous
(leafy foliage). Coniferous or evergreen trees and shrubs will hold their foliage all through the season. Where deciduous or leafy trees and shrubs will drop all their leaves in the fall.You will want to be careful planting tender evergreen trees and shrubs in the Cochrane and Calgary area.
This means those cheap cedar trees you find at all the big box stores!
This is because the chinook weather we get over the winter can create problems causing the plants to dry out. We recommend only hardy evergreen trees for this climate.Of course there are some areas which are more sheltered from the elements where you may be able to plant some of the more tender plants.